The construction industry is high-risk. As recruiters, we're responsible for making sure our contractors and operatives are safe and looked after in their workplace. 
Our unwavering commitment to health and safety training, knowledge and process reviews means you can trust we're dedicated to exceeding industry best practice standards every step of the way.
Health and safety begins with knowledge of risk and how to protect yourself and others. It's why we start with an understanding of your project, planning and managing roles carefully to minimise risk.
At CJS Recruitment Limited, we aim not only to meet but to exceed construction industry best practice. To do this, we work alongside our health and safety consultants, Settle for Safety Ltd., to consistently benchmark our performance against the industry standard. We'll never register an operative without a CSCS card relevant to their field of expertise. It gives you the confidence that all our operatives are trained to the highest standards.
As our client, you'll approve all method statements and risk assessments before work begins. You'll also be present when we hold briefing sessions on your site, making sure your team understand every procedure before work begins. It gives every operative the chance to discuss, identify and clarify any issues about safe systems of work.
You can rest assured you're protected too. Every operative will sign documents to confirm they've read and understood health and safety information and that they'll work to safe methods at all times.
As one of our operatives, you'll receive the highest standards of training that gives you the skills you need to excel and progress in your career in the construction industry. No matter your background, we're committed to work against any unlawful discrimination to give you equal access to the health and safety training that allows you to be your best.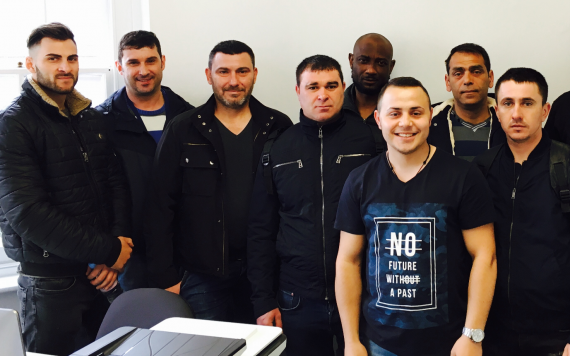 Manual Handling Training May 2017 CJS Recruitment – Old Street Office



AT&F Solutions are our skilled trainer provider. They supply our operatives with all of their training needs via ClickHSE, an online platform for us to monitor and review both completed and required training.
They are an established eLearning health and safety training provider and fully RoSPA and CPD accredited.
Our health & safety commitment to you
At CJS Recruitment Limited, we will make sure:
Any health and safety risks arising from our work activities are properly managed
We identify hazards in the workplace, assessing the risks related to them and putting appropriate preventative and protective measures in place
The right processes have been completed by our clients before work commences when staff attend 3rd party projects
Our work activities do not present any risks to our clients or anyone who may be nearby
We do all we can to prevent accidents and work-related ill-health
Provide the correct plant or equipment for the tasks to be carried out
All plant or tools used by CJS Recruitment Limited are maintained properly
There are always adequate welfare facilities
Safe handling, use and storage of materials is maintained – whether solid, gas or liquids
Appropriate personal protection equipment (PPE) is supplied where needed
All operatives are competent to do their tasks and to give them adequate training and/or supervision
We monitor, audit and review working practices
We promote a positive safety culture within the company and all its staff
To review our health and safety policy annually.